---

Urgent Medical Fundraiser for my wife, Jenny.
My wife has been having major medical challenges with brain and spinal tumors that have left her paraplegic and bedbound.
We have set up a fundraiser to help her get the help she needs. Would you please help?



Many people donating to Jenny's fundraiser have been visitors to Guitar Skill Builder.com 




We appreciate each one of you.
You can make a huge difference!
Would you please help?
Please click here to see her story

Many people visiting this website have helped, you can too. 
See Jenny's Youcaring fundraiser page.

Youcaring.com
---
---
Restringing an Acoustic Guitar
A illustrated how to, step by step guide to doing it right
Stringing an acoustic guitar takes some knowledge and skill.
The questions of choosing strings, proper bridge peg placement, number of wraps around the tuning peg, how to keep the string from pinging while tuning are all questions that need to be answered.
Some of the things that experienced guitarists take in stride can be intimidating to a beginner.
If that is you, take courage, we all go through it. All it means is you want to do it right and you need answers and instruction.
You came to the right place.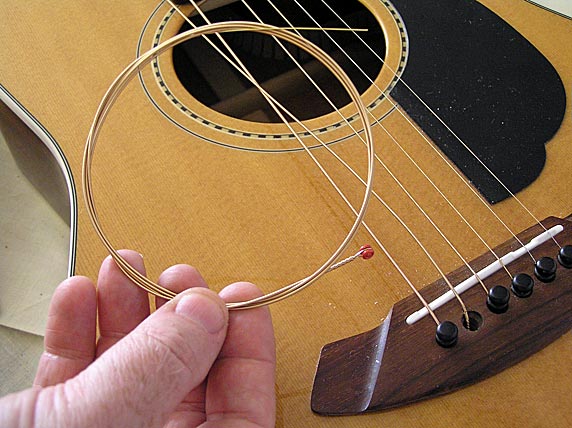 Some of the things that you should keep in mind when restringing an acoustic guitar.
1. Having the proper tools and workspace can make the job allot easier. A guitar stringing too is not very expensive and really speeds up the job. It is an all in one tool with string clipper, tuning peg winder and bridge pin puller all in one place.
2. Choosing the proper strings for your guitar is very important. A string gauge change can throw off the neck adjustment and might require the nut to be re-cut. so make sure you really want to go to all that trouble. If you are dissatisfied with your sound try a different brand of strings.
I've put together a power point presentation to take you step by step through the process of restring an acoustic guitar.
I hope you enjoy it. This first presentation is on the Fender slotted tuning peg. This is a really cool design for a tuning peg that makes stringing quick and easy

Return home from restringing an acoustic guitar.
---
If giving is hard right now please help us get the word out by sharing Jenny's fundraising page on your Facebook page, website, by email or any other way you feel comfortable with.
Here is the link to share.
 https://www.youcaring.com/help-Jenny-get-her-life-back
---
<iframe src="https://www.youcaring.com/fundraiser-widget.aspx?frid=277311" width="335" height="454" frameborder="0"></iframe>
Thank you so much,
Roy